RESIDENTS WANT TO KEEP THEIR TREES!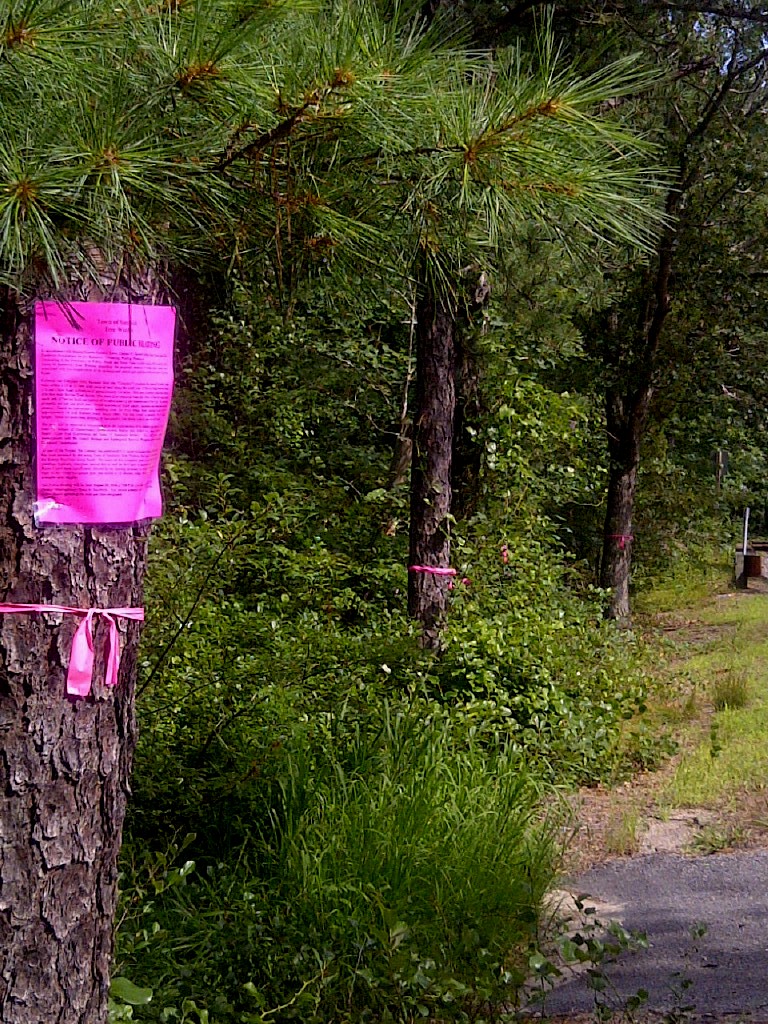 A number of residents who live on and around Service Road showed up for a "shady tree" hearing, hosted by Paul Tilton of the DPW and new Tree Warden Justin O'Connell. Also there were two rows of "suits" from National Grid. The utility wants to put a 20" natural gas pipeline along the northern ridge of Service Road, while clearing most of the trees that mitigate the visual and audio repercussions of Route 6 from the homeowners there.
It's all part of National Grid's Sagamore Line Reinforcement Project, Western Segment, Phases 1 & 2. The Energy Facilities Siting Board (EFSB) has already rubber stamped the project. Previous boards in Sandwich paved the way for the Raping of the Trees. Ted Barton of Epsilon Associates, representing National Grid, showed the crowd a brief presentation. In it, he illustrated the 10 to 15 foot "swath of trees," primarily red oak and pitch pine, that would be removed. He said most were, in the words of Roger Miller, "short, but not too big around." He said that National Grid would offer "visual mitigation" to those within 300' of the pipeline, whose "view is materially affected." He said "we'd plant on a case by case basis, putting evergreens directly on the affected homeowners property."
Barton, showed on his power point presentation the trees in tiny clumps, and his "after" illustration made it appear that nothing was really disturbed. Reminded me on NSTAR's photos of their "substation" in Stoughton. It is still a monstrosity that adversely affected property values there, just as this will here. Barton claimed that notices were mailed to all abutters on prior hearings, but no one in the crowd got one. When they pointed it out, he said they were sent and shrugged. Ahh, the caring utility suits. He said further communication would be made through the Cape Cod Commission's website and the Town website. (Don't hold your breath waiting.)
Interestingly enough, the group that would make the final decision that could protect residents (their views, their health, their views, their hearing, and their property values) is the Board of Selectmen. NONE of the five members made it to the Human Services Building on Quaker Meetinghouse Road. But, at least State Rep. Randy Hunt (R-Sandwich) was there. And, he spoke up for residents. "Most of the 4.4. miles isn't like your illustration," he began, "There are trees, then a hill down to Route 6. Every one of the north side canopies will be removed. He asked tree warden Justin, "Would you remove half a canopy anywhere else in town? He also wanted to know the process, if the BOS turns it down. Does EFSB handle the appeal? Is there a possible appeal for abutters? What is the time frame?" The chirping sound you here is the silence. There were no answers. Later, Hunt asked if an audio copy of the meeting could be delivered to the selectmen. "It would be nice if they heard the residents before they made a decision." He also asked where the answers to the dozens of questions asked by residents would appear. Again, the sounds of silence.
Paul Massoni, who lives on Service Road, said that evergreens can't possibly mitigate the noise. He also feared without trees people might cut through in their cars to Route 6, or make the side of the road into a trash dump. Resident Nancy Mann hit on the issue of notification. She was the one that made most people aware of the Shady Tree meeting. National Grid had put up tiny pink hearing signs along with their cute pink ribbons notating where they were removing trees. The pink ribbons are everywhere--but put your money on the fact that MANY MORE trees will be cut, in addition to those with ribbons. That's their M.O. Later, Tilton told the crowd that notification wasn't required from National Grid.
Resident Stephanie Grady was in tears, saying her house is for sale, and she's already lowered it $100,000. "We can't sell our house. That illustration you had up is stupid. It takes 20 years to grow a tree. No one will want to come to Sandwich." One resident suggested the road be replanted with Cyprus trees after the pipeline is laid. Another said that it should be laid under the middle of the road. Jim Watts said that Service Road is a scenic road that would take decades to restore. A man who lost his hearing in the military, feared hearing loss from the Rt. 6 noise for residents after National Grid gets through. "People should visit the dangerousdecibels.com web site. Kids are outdoors in the summer, when traffic on Rt. 6 is at its peak. They could suffer serious injury and permanent hearing loss," he said.
One man challenged Barton's alleged skinny short tree illustration. "I counted eighty 24" caliper trees in just a short area. That buffer zone is there for a reason. This would be devastating. These trees are 30 to 60 years old. Destroying them for a 20" pipeline? This is insane! To the tree warden, if you lived where we lived, what would YOU do?"
Nancy Crossman not only worried about the trees being cut down, but those that remained. "You'll be destroying the roots of the other trees. What happens when storms come and knock them down? The town's by-laws specify that you must replace a tree when one is removed. As far as the multi-sections of this project, only one section should be approved at a time. They should have to abide by town rules if they want to move on to the next section."
Kurt Mann pinned the blame for the mess on Dan Mahoney, Superintendent of the Sandwich Water District. He was not there to respond. Added Mann, "I have no trouble with utilities, but this is ludicrous and nonsensical."
Barton had the nerve to tell the crowd that the utility's research indicated that the noise level would go up less than one decibel with the treeless border. Who is he kidding? Together with his illustrations, he garnered ZERO credibility with the crowd.
If the Board of Selectmen approve this slap in the face of residents, they should be removed from office. If the rookie tree warden goes along with the National Grid "mitigation" plan, he needs to go, as well. If National Grid removes ANY trees, they should be forced to replace each one, with a large similar tree, after their pipeline is buried. It's only fair. For a town with the highest tax rate on the Cape, it's the least the BOS can do for the poor residents on Service Road.
(C) 2014 by PMPNetwork, Inc.
Mark Snyder story & photos
COME TO THE SELECTMEN'S MEETING ON SEPTEMBER 25th
To See if They Do The RIGHT THING FOR RESIDENTS
and JUST SAY NO!
UPDATE: SELECTMEN VOTED UNANIMOUSLY (On September 25)TO ALLOW NATIONAL GRID TO DENUDE THE SERVICE ROAD AREA, TO DEVALUE HOMES, TO CREATE VISUAL & NOISE POLLUTION. THINK OF THIS THE NEXT TIME THEY ARE ON THE BALLOT. In all fairness, it was GOING to happen, but why not put up a fight? Why not make believe you care? "Listening" to residents, and doing the exact opposite of what 90% wanted isn't actually "listening."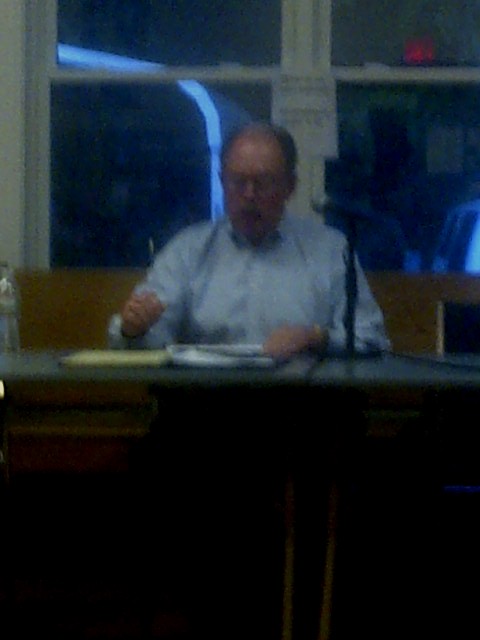 Barton's answers were
as fuzzy as my photo of him
IT WAS IN THE BAG--FINAL EFSB DECISION
Supplemental Mitigation Plan from National Grid
The Presentation from National Grid on September 25
THE FINAL PLANS FROM NATIONAL GRID