TOWN NEWS | SCHOOL NEWS | EVENTS AND CHARITY | SPORTS NEWS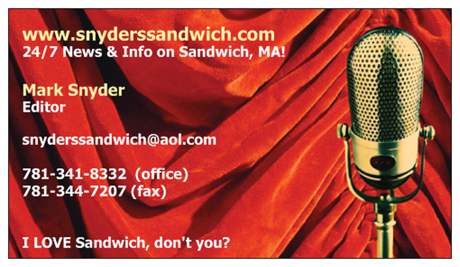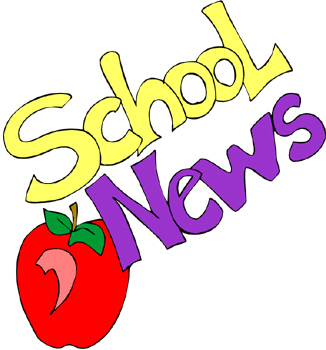 SANDWICH SUPERINTENDENT OF SCHOOLS RESIGNS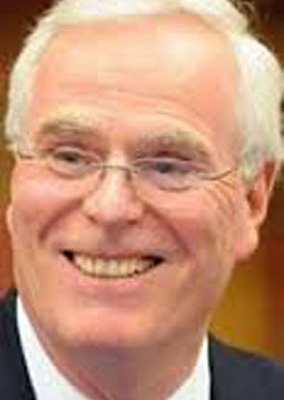 Dr Richard Canfield, who re-aligned the Sandwich School System over the past few years, has announced his resignation from the post, at the end of the school year.
Over five years, Dr. Canfield's many accomplishments included the opening of the Sandwich STEM Academy and the reconfiguration of the district's K-6 schools
Dr. Richard Canfield, Sandwich Superintendent of Schools, today informed the School Committee of his intention to resign prior to the start of the 2016-2017 school-year. Dr. Canfield, who was hired as superintendent in March 2011, expressed pride in the achievements of the schools, as well as gratitude for working alongside so many talented and dedicated educators, community members, students and families.
The list of district accomplishments is one that I am very proud of, and those accomplishments could only be achieved through a spirit of caring, cooperation, determination and the collective vision of many people," Dr. Canfield said. "I thank the educators, school committee members, and community leaders who contributed so much, and supported the need to adapt and resize the district, and I especially thank all of our parents and families for entrusting me with the care and education of their children. Through it all, we maintained vital programs while innovating and creating new opportunities for all students. Most of all, I'll cherish the memories of the politeness, kindness and accomplishments of all of our students. I have really enjoyed being a part of their lives. It's those moments –from greeting kindergarteners on opening day to cheering and applauding the efforts of our athletes and visual and performing arts students to presenting diplomas at graduation –that made the effort so rewarding."
Dr. Canfield plans to spend more time with his family."Now it is time for me to move on, and to spend more time with my family," he said. "My wife has been a constant source of encouragement and support, and my children and grandchildren are a loving reminder of why it is an honor and privilege to serve the children in any community in the role of educator."
-----------------------------------------------------------------------------------------------
SANDWICH SCHOOL COMMITTEE CANDIDATES
ANSWER MY QUESTIONS!
NICHE.COM NAMES THEIR TOP HIGH SCHOOLS IN MASSACHUSETTS
Today, Niche.com revealed their top 100 high schools in Massachusetts, and their complete ranking of all high schools in the State.
In our Cape & Islands area, Nauset Regional finished at #20, Sturgis Charter was #26, Martha's Vineyard High was 39, Barnstable High was #60, Harwich High was #78, Nantucket High was #86.
---
SCHOOL '16 BUDGET EXPLAINED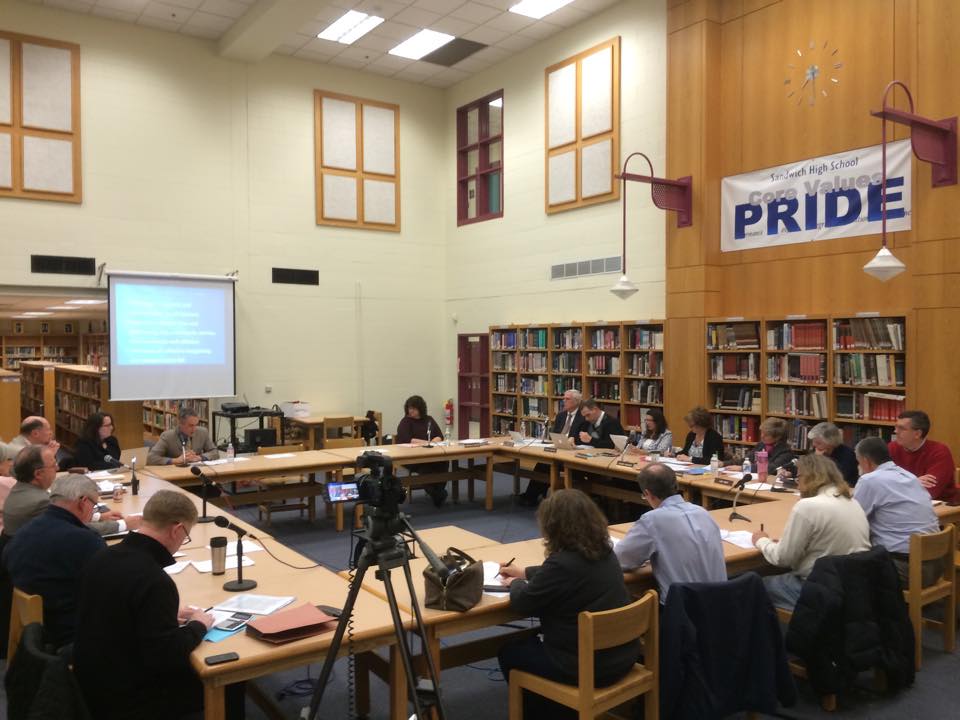 SCHOOL SUPERINTENDENT PRESENTS BUDGET
--article by Mark Snyder, Sandwich News/www.snyderssandwich.com from an open televised meeting
Sandwich Superintendent of Schools Dr.Richard Canfield presented his draft fiscal year 2016 budget to the School Committee and Finance Committee earlier this week. The Selectmen had asked Canfield to hit a goal of $24,250,000 for his budget. The presented budget was $24,630,822. Canfield said there were 20 "positions" that were eliminated in the proposed budget. Unfortunately, unlike budgets I studied in Randolph and Stoughton previously, this budget did not delineate the numbers of employees in any of the salary areas. This presents a kind of "trust me" situation, without specifics.
Canfield said that the budget covers Phase II of the Reorganization, which last year introduced the STEM Academy, as grades 7 & 8 went to Sandwich High. Next year, the proposed Reorganization includes all of the Pre-K through grade two students attending the Forestdale School; and the grades 3-6 students attending the Oak Ridge School. The Wing School will not house any students this coming September. Canfield said the efficiency of grouping students together by grade will generate savings. Last year, he had estimated the savings from closing the Wing School at somewhere between $800,000 and a million dollars.
The budget also includes Full Day Kindergarten, at no charge to parents. Currently, there are 181 total students in half day and full day kindergarten. Parents currently bear the costs of full day kindergarten, to the tune of $260,000 collected for tuition. Canfield wants taxpayers to bear the cost for everyone in his proposed 2016 budget. "We believe in the value of no cost to families full day kindergarten," he said.
The budget includes property management for the Wing School, as agreed to with the Board of Selectmen, Canfield said. "We know the building and it makes sense for us to take care of maintenance and management of the building. The money could be moved into the town's budget, and they could take care of it, but it would be less efficient."
Dr. Canfield said the motto of this year's budget is "funding what we value," adding, "Our mission is to educate the children, but use taxpayer's funds wisely. All of our funds are held at Town Hall and monitored by the Treasurer's office."
The recommendations of the NEASC recommendations were incorporated in the budget, as well, Canfield said. "We are required to address the recommendations for continued accreditation."
Their goal is to educate EVERY student, and they do it through intervention with early learners, with a Response To Intervention (RTT) to help those who struggle with learning and behavior issues. Canfield says that full day kindergarten will help the educators assist with early intervention.
Canfield said his team has been working on Tech Development. "It's a Digital Age for kids. We've spent time working with parents, teachers, administrators and IT people to develop what's appropriate for K-6 technology."
Canfield also added that funding was included in the budget for the Theatre Program, Fine & Performing Arts, Community Service, Extra Curricular Clubs, and Athletics. It will also include the final outcomes of collective bargaining and transportation bids. The effort at reorganization---particularly the STEM Academy--is "trying to mitigate the outflow of students to outside schools," according to Canfield.
Mark Smith, principal of Forestdale School outlined his priorities for the coming year. His goal (and he said it may take five years to achieve) is to have every second grade student leave the school with a grade-level reading ability. "We're creating an early learning campus. We'll get valuable data from Kindergarten, with input to allow intervention to close achievement gaps. We'll institute a systematic high-quality intervention system. We'll also offer an opportunity for teachers in leadership. as part of the design team, with five departments--each led by a teacher," Smith said. The Forestdale School currently houses 300 students. Next year, they expect between 600 and 620 students enrolled.
Principal Trish Hill of the Oak Ridge School, which will house 950 students next year, said it currently has 527 students. She said that she'll be focused on "Teaching 21st Century skills, and exploring the "Knights of the 7 C's" including Collaboration, Connection to Community, Character, Curiosity, Creativity, Communication, and Critical Thinking. Team leaders will be teachers, utilizing project-based learning. There will be 41 homerooms, and additional specialists were added to cover the increased enrollment. Hill also said they would build up the school's music program. "We'll be adding photography, graphic design and videography for sixth graders, to help prepare them for STEM Academy," Hill said.
School Choice currently funds nine positions in Sandwich High. But, Canfield said that School Choice is currently in a "Moratorium." "We have a waiting list for the STEM Academy. We're only admitting siblings into the system."
School Committee Chairman Travis Andrade voiced support for taxpayer-paid kindergarten. "Big fees tend to scare away families. What do we value? I'd like to see us open to attracting young families to town." He thinks free full day kindergarten will do that, at a cost of approximately $244,581 to taxpayers.
As for Sandwich High School, principal Dr. Ellin Booras said there were 226 seniors there this year. 265 students are currently in 8th grade, and Booris is hopeful that "with our efforts to stop out migration, we should be stable." There are currently 1265 students housed at the high school, 750 are in grades 9-12, with 515 in STEM Academy. $407,000 was cut from "professional staff" salaries at Sandwich High in next year's budget.
As for Special Education, the cost is just over five million dollars. Special Education Director Matt Bridges said that 435 students have an IEP (Individualized Education Program.) He said that is 14% of the total student population. (The State average is 17%.)
The proposed Athletics budget is $581,231 in 2016. It is supported by $182,900 from the athletic revolving account, which includes gate receipts and athletic user fees. There are currently 72 coaches receiving a stipend through this account.
Michelle Austin, the school's finance and business operations director, did a nice job of explaining the budget to school committee, finance committee, and viewers at home.
Next week, the central administration expenses are the first item on the table.

(It should be noted that the opinions expressed in this article are those of the writer, and not of the Finance Committee, of which he is a member.)
(Photo courtesy of Sandwich Community Television. Watch these meetings live on Channel 14, or catch them on demand)
READ THE PROPOSED BUDGET
a public document
SCHOOL UPDATE FROM DR. CANFIELD & ALAN HALL
---
CONGRATS
Congratulations to Sandwich High School students Alexander Denmark, Katherine Dunham, and Shaun McCoy, who were named Commended Students in the 2015 National Merit Scholarship program.
Sandwich High School principal Dr. Ellin Booras said a letter of commendation from SHS and the National Merit Scholarship Corp. (NMSC) will be presented to these scholastically-gifted students.
---
STEM ACADEMY READY FOR OPENING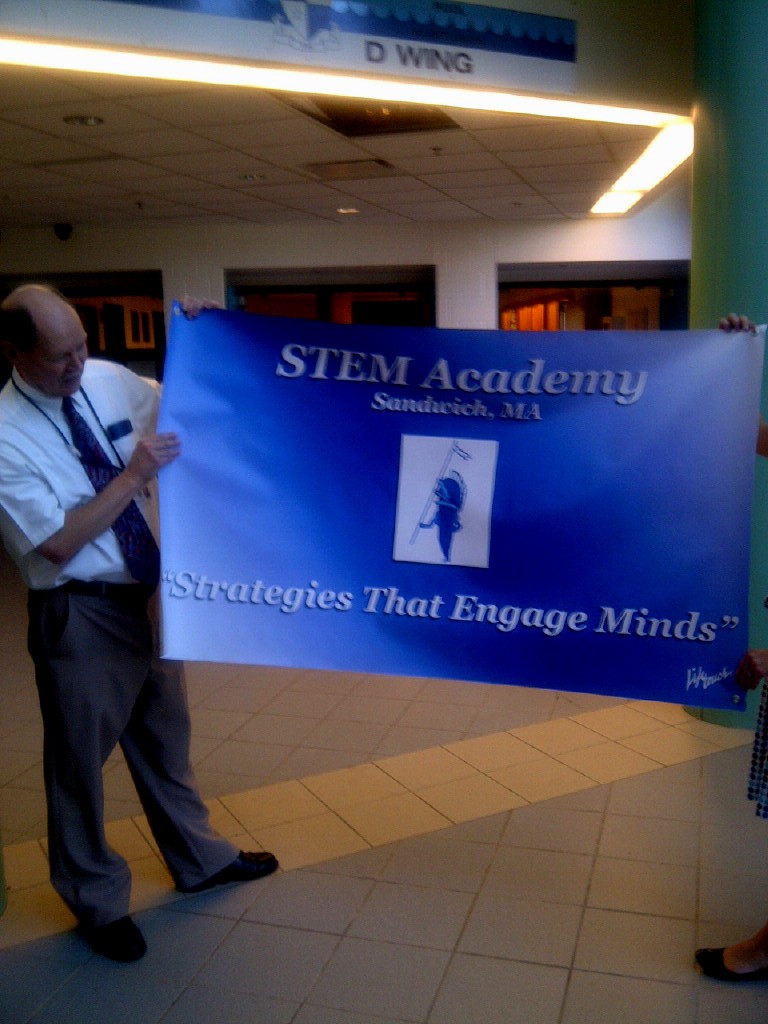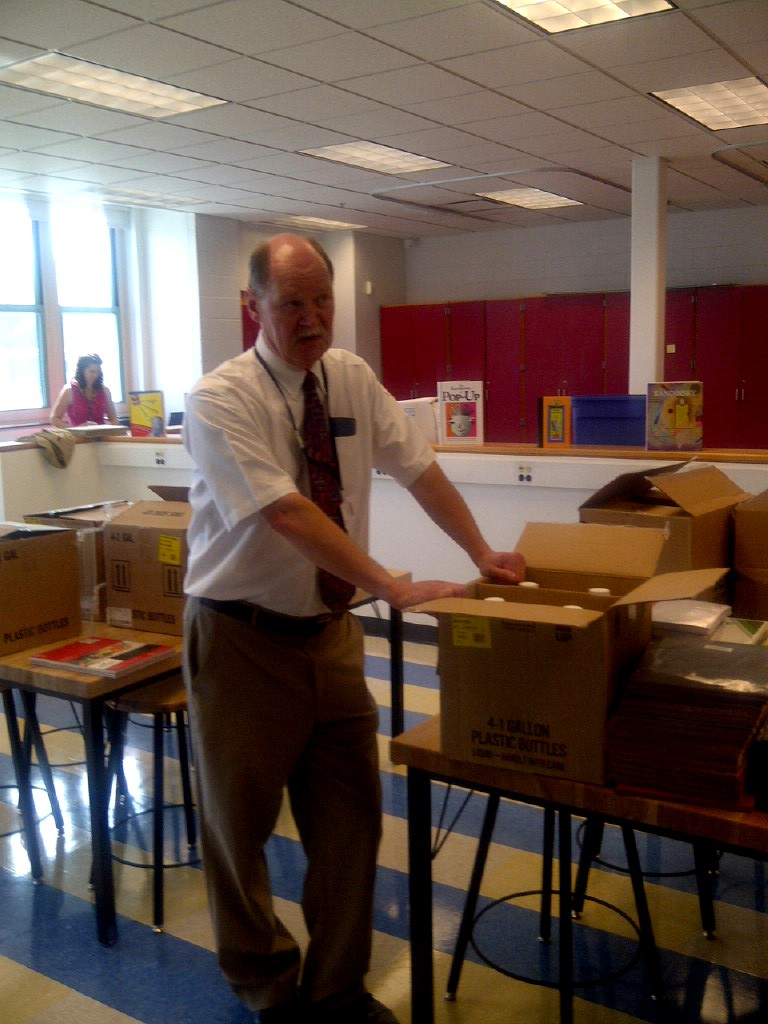 Gil Newton, STEM Academy Principal, shows of sign (left) and art class (right)
Newton, STEM Assistant Principal Elizabeth Hebb, and Alan Hall (Director of Building & Grounds) showed off the new STEM Academy to a number of dignitaries on August 26th, including Town Manager Bud Dunham, Selectmen Ralph Vitacco, Jim Pierce, and Frank Pannorfi; School Committee member Nancy Crossman; Finance Committee members Michael Dwyer & Mark Snyder; and Superintendent of Schools Dr. Richard Canfield.
Newton was quite pleased that over 1000 people attended the STEM meeting at the Sandwich High Auditorium last night. He said it was the largest crowd he'd ever seen in the high school. Newton also said the STEM sports teams would be known as the "Squires." In a related development, the STEM Academy vocal group will be known as the Squires Choirs.
Hall said that the renovations of eight rooms, including furniture, fixtures and plumbing was $140,000. It was money well spent. The 7th & 8th graders have an opportunity to take engineering in a classroom there. It's a very rare middle school opportunity! All Sandwich STEM students will receive a Chrome Book to do their assignments with, and for use in class. Canfield said that one of the reasons why he wanted to develop the STEM program was to retain students that might go elsewhere when it was time to hit high school. "Aside from those going to Catholic schools for religious reasons, there's really no reason to leave Sandwich High. We will be delivering such a good education to 7th & 8th graders, we want them to WANT to stay," he said during Thursday's tour. He also added that STEM was "the biggest challenge I've had in my entire educational career."
The STEM Academy was set up to have proper supervision for the new younger students that will be coming to the high school. Newton, Hebb, and a guidance counselor will each be stationed on different floors. So, there will be a presence and supervision on all floors.
There are all new labs, art classrooms, and computer rooms (equipped with Lenova computers.) The pool should be ready in a couple of months, and it has a brand new HVAC system for the comfort of Sandwich's swimmers. Even the hot water system is new there. In addition, a number of windows and sills have been repaired to stop leaks.
All in all, Sandwich High looks like a place that well offer excellent learning--in a pleasant atmosphere!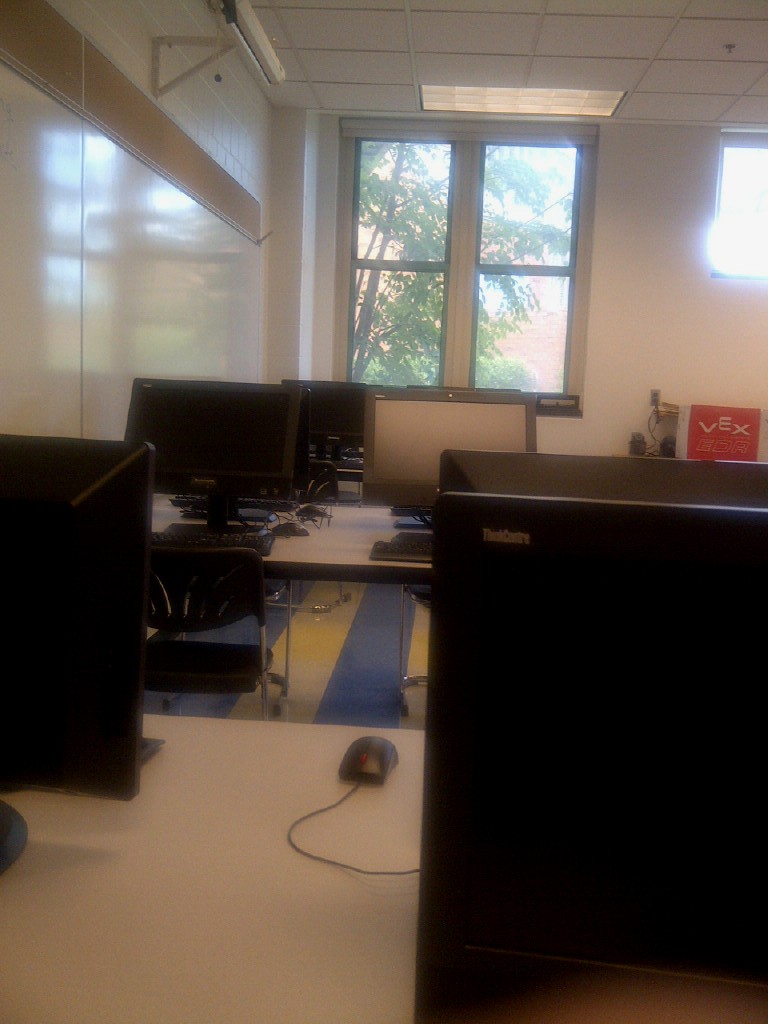 The STEM Engineering Lab
(article & photos by Mark Snyder (C) 2014 by PMPNetwork, Inc.)
2014-2015 School Year
---
Sandwich Elementary Schools Band Rehearsal
Heritage Museums Announces Plans to Open New STEM Preschool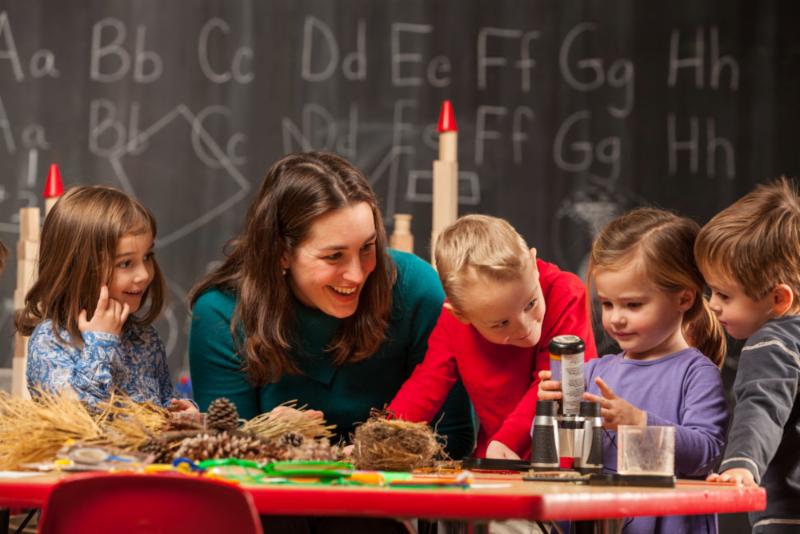 Heritage announced yesterday plans to open an innovative, year-round preschool focusing on STEM-based (Science, Technology, Engineering and Math) curriculum, which will be located in a renovated section of the Art and Carousel Building. The Hundred Acre School will open this September and will fully utilize the rich resources of Heritage Museums, including collections, exhibits, expert staff, and exemplary public gardens. It will provide students an opportunity to engage with the outdoor world while taking advantage of the classroom offerings of a STEM education.
The School will provide four and five-year-olds with 21st century skills that science, technology, engineering and mathematics (STEM) provide and will give them an advantage as they grow and mature academically, providing better preparation for Kindergarten.
"We are very enthusiastic to be able to offer this opportunity. The Hundred Acre School is a natural extension of our work," said HMG President & CEO Ellen Spear. "Combining museum resources with a newly created curriculum will bring a high-level educational experience to the children of Southeastern Massachusetts. We hope to create an effective model not only fo
r the Cape but for the entire Commonwealth."
The school is now accepting applications and Heritage is hosting Open Houses for prospective parents to learn more about curriculum and other details. Open Houses are January 28 or February 12 from 9:30-11am or 5:30-7pm.
For more information or to fill out an application, click here.
SANDWICH SCHOOL OFFICIALS MAY HAVE MADE THE RIGHT MOVE
Have School News? Email pmpco@aol.com
Send YOUR LETTERS!
ALL CONTENTS (c) 2007 by PMPNetwork/Snyder's Sandwich
Like what you see?? Advertise and Your Friends Will See YOUR company!
Call 781-341-8332 for advertising information
---
(c) 2007 Snyder's Sandwich